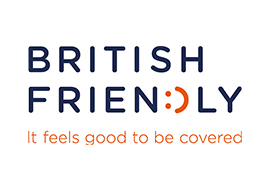 `
At British Friendly we're dedicated to providing affordable, reliable and flexible Income Protection cover and we've been doing just that since 1902.
As a mutual provider, our members are at the heart of everything we do, which drives our commitment to paying claims – 96% paid over the last 14 years – and adding value to our members' policies through our discretionary Mutual Benefits and BF Care programmes.
Because of our mutually inclusive cover, we welcome manual workers and self-employed clients – the people who we believe need Income Protection the most.
Why British Friendly?
Cover for up to 70% of your clients' annual taxable income with our Protect product
A maximum retirement age of 70 with our Protect product
1, 2, 5 year or until retirement payment periods across our different products
Own occupation cover
We don't limit the number of claims that can be made on a policy
We provide additional discretionary benefits to our members (both new and existing) at no additional cost
We are a mutual with no shareholders so we exist solely for the benefit of our members
Guaranteed age-costed premiums
Our Products
Short Term Protect
Short Term Protect is an affordable option for your clients who need cover for shorter claim periods or are on a limited budget.
Long Term Protect
Long Term Protect provides a regular replacement income for your clients if they are unable to work because of illness, injury or accident for any claim period until they return to work or reach their chosen retirement age.
Breathing Space
Breathing Space is affordable short term cover for your clients who may struggle to prove their level of income in the event of a claim – such as self-employed, casual or part time workers or people with irregular income.
Contact Us
Got a question? Don't hesitate to give us a call or start a live chat.
Telephone: 01276 601 041
Email: [email protected]
Lines are open between 8:30 and 5:30 Monday to Friday.